WHAT IS THE LEGION OF SUPER FANS?
We are a non-profit organization that promotes the advancement and preservation of fan arts.
We organize volunteers to support conventions and festivals that promote fandoms.
We spread awareness of fan arts amongst the general public at local public events with other brands, companies, and charities.
We develop content that educates and informs the public about fandom arts which includes, but is not limited to comic book writers, comic book artists, traditional media artists, graphic design artists, costume artists, filmmakers, independent videogame developers, novelists, scriptwriters, musicians, theatrical performers, photographers, makeup artists, and animators.
The Legion of Super Fans is partnered with GalaxyCon events in Richmond and Raleigh.
SHOULD I BE CONCERNED ABOUT COVID?
We're all concerned about Covid, and we'll announce a plan to keep volunteers, special guests, and attendees safe when we are about 3 months out from the events. You are welcome to apply now and decline later. We understand the situation is uncertain.
Join us in a city near you to provide assistance to the attendees and to the superstars of fandoms such as celebrities, writers, artists, cosplayers, panelists, wrestlers, streamers, comedians, performers, and more!
WHAT WILL I GET OUT OF VOLUNTEERING?
Our members and volunteers tell us that they make great friends with similar interests at these events while learning valuable skills and contributing to the geek community.
The events also have perks for participating such as free weekend admission for 10 hours contributed, a free t-shirt, and pizza during shifts.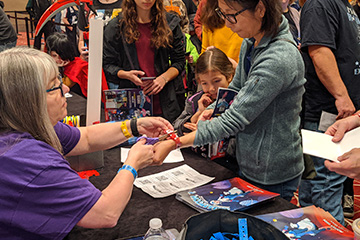 REGISTRATION
Registration Volunteers help attendees get their wristbands and badges so they can come and go throughout the day.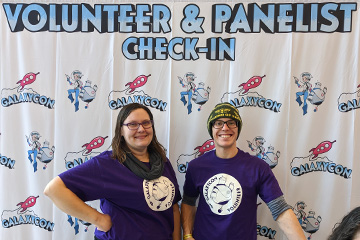 EVENT OPERATIONS
Event Operations Volunteers help volunteers and panelists figure out where to go and what to do as they arrive. They also help with the info desk.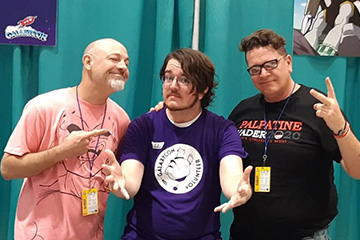 CELEBRITY GUEST RELATIONS
Celebrity Guest Relations Volunteers primarily either assist celebrities as they sign autographs or they help manage lines of attendees waiting.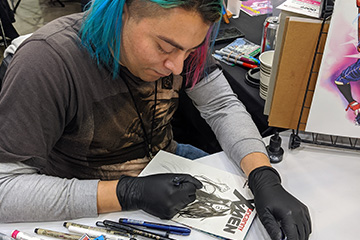 COMICS GUEST RELATIONS
Comics Guest Relations Volunteers help creators get to panels, watch their stuff while they're gone, and get them refreshments as needed.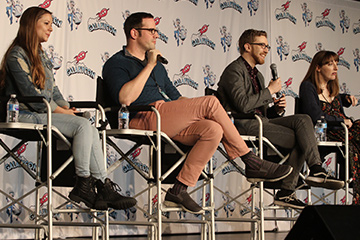 STAGE MANAGEMENT
Stage management volunteers assist with the stage setup for each celebrity session to ensure enough chairs and mics are ready.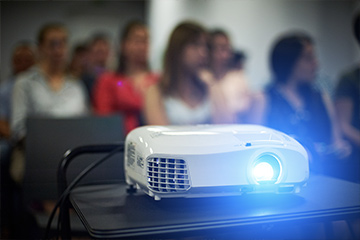 AUDIO VISUAL
Audio Visual Volunteers ensure panelists have the right cables and equipment needed for their presentations.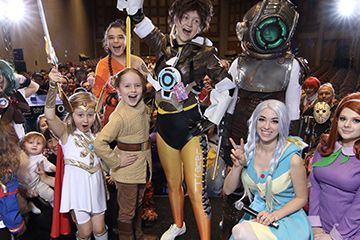 COSPLAY INFO & CONTESTS
Cosplay Info & Contests Volunteers help process contestants at the sign up booth and help line them up at the contests.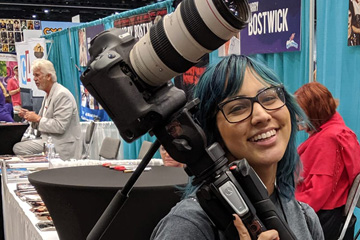 PHOTOGRAPHY
Photography Volunteers with their own professional equipment take photos of attendees and guests to take stock of the events.
We are in the happiness business. We support festivals with the purpose of delivering joy, nostalgia, and meaningful human connection.
We work hand in hand with volunteers, employees, agents, talent, exhibitors, panelists, track directors, sidekicks, contractors, venue service people, city officials, hotel service people, and so much more. We are all interconnected, and we thrive when every member understands how they create meaningful experiences for festival attendees and team members.
Our guiding principle is to connect people with similar interests. 
We commit to being helpful, to lending a hand when asked or when we can see someone needs help.
We value diversity of backgrounds and perspectives as much as we embrace the diversity of geek interests.
We're all on the same team.